Super Eraser for Mac
Removes Unwanted Objects from Photos for Mac
Super Eraser magically removes unwanted objects from photos for Mac and instantly fixes your photos. Powered by the latest revolutionary photo InPaint for Mac algorithm, Super Eraser performs the best among all other Mac InPaint apps that ruin your photos, including popular professional photo processing software. A variety of experiments shows the intelligent Super Eraser for Mac gives you better and more natural, amazing results than any similar tools.
Super Eraser software for Mac quickly erases unwanted objects from images such as logos, text, data stamps, watermarks, acne, people… without any special knowledge and instantly fixes the photos automatically as if they were never there. It improves and repairs your photos. Super Eraser is a simple yet effective photo healing app for all Mac users. Get the magical photos done in seconds-to-minutes instead of minutes-to-hours. People all over the world use Super Eraser every day to beautify their photos. Download Super Eraser for Mac today to be more creative!
Tutorial of How to Remove Logo, Watermark from Photo on Mac?
Pay attention: You should Mark unwanted objects with Red and the rest of the objects with Green to avoid mirror effects.
Remove Unwanted Objects from Photo for Mac Without Waiting
---
| | | |
| --- | --- | --- |
| | | |
| Import | Mark & Live Preview | Realistic Result |
| Mark unwanted objects with red | Stay focused on every part and edge of the image with live feedback | Enhance your photo graphic design skills for a more realistic-looking result! |
Results Comparisons :
---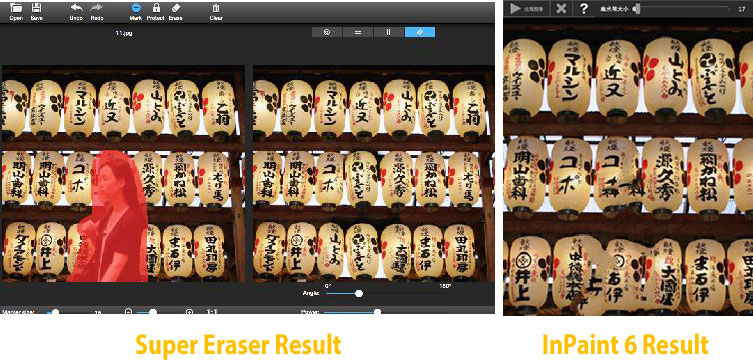 Top Reasons to Install Super Eraser to Remove Unwanteds from Photo for Mac:
---
- Smart Algorithm Enjoy the least amount of work for the best erasing results in quality and quantity.
- Amazing Realistic Result:
1 Remove unwanted logo, watermark, signature, date stamp, text etc from photo for Mac OS X.
2 Delete unwanted objects from photos for Mac, such as wires, buildings, garbage bins, etc.
3 Erase objects from photos: skin blemishes,acne …
4 Get rid of photo objects, pedestrians, tourists.
- Very Fast Speed: Get the magical photos done in seconds-to-minutes instead of minutes-to-hours. It is time to say goodbye to Photoshop.
- Intuitive User Interface: Easy to use and completely non-technical. Just select the Brush or Lasso tool to mark unwanted objects with the red color, Super Eraser will do the rest for you.
- Precision Tool: The only tool for making red/green marks for extremely fast separation without sacrificing quality.
- Live Preview: Instant Preview effects and make necessary revision. Redo immediately if you are dissatisfied with the result.
- Supported formats: All popular image formats: JPG, PNG, GIF, BMP, TIFF …


System Requirements:
Available for OS X 10.7, 10.8, 10.9, 10.10, 10.11, 10.12, iMac, Macbook Mini, Macbook air, Mountain lion, Macbook Pro, Yosemite, mavericks, EI Capitan, macOS Sierra.