StarMessage – Moon Phases screensaver v5.4


Write romantic messages with the stars of the night sky, view the current moon phase and much more.





Normally: $9.95

ZOT Price: $5.95

Click to macZOT!
Download Trial





A screen saver that was loved by Windows users is now brought to MAC.
See the current moon phase together with moon phase information
The StarMessage screen saver shows a realistic presentation of the night sky, with the moon in its actual phase.
Write messages with the stars of the night sky
StarMessage allows you to write a series of messages and the stars will move to write them on the sky.
Read love, wise, funny quotes
The screensaver contains a hand picked list of the best quotes organised around several categories.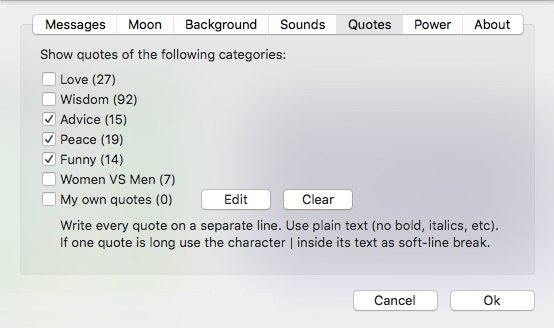 Relaxing sounds of nature (birds sounds, ocean sounds, etc)
Keep your computer awake during long downloads
Full list of features at: http://www.starmessagesoftware.com/moonscreensaver
Many users stopped looking for other screensavers after they met StarMessage. Maybe this will happen also to you.
"I have been using StarMessage for years and it is still the greatest screensaver available! Thank you.

James K.

"

"I was searching to download a windows 7 screen saver. This is a serene screen saver for the whole family.

Deane K."

"This is by far the very best star screen savers one can find. Lost hard drives etc….I will reinstall each and every time. Have had since 98 and wouldn't change it for one second. Who can ask for more than the 'moon and stars'?

Sherry S."

I discovered StarMessage Screensaver many years ago, after I purchased my first PC and was looking for some screensavers by searching on the Internet.
I liked it, so I downloaded the free version which I used along with a Halloween screensaver, my two favourite screensavers.
Time passes.
Some years ago, after several computers and notebooks (or laptop, if you prefer) has changed, with consequent loss of data almost every time, by talking with my old friends about the past and how computer world has developed in these 20 years, I remembered my favourite screensaver.
Therefore I made a search with Google and found that StarMessage was still existing, so I immediately downloaded it and some weeks of use I registered it.
When I was young I liked to see the name of my girlfriend written by the stars on my tower PC screen.
Today I like to watch the name of my wife (yes, it's the same name and girl of 20 years ago) and the name of my two children aged 5 and 8 years written by the stars on my notebook screen.
Paolo from Italy


System Requirements:
Mac OS X 10.8 and later. (Windows version also available, but not part of this offer. Email us if you want us to setup an offer for the Windows version as well.)