Permanently Erase or Wipe Data on Mac
DoYourData Super Erase for Mac is powerful Mac data erase software that can permanently and completely
erase files, folders and data on Mac hard drive or storage device. It will destroy/wipe the selected data and
overwrite the disk space with zeroes/ones or random bits. After erasure, the erased data will be lost forever,
can't be recovered by any data recovery software or service.
Three Mac Data Wipe Methods
1. Erase Selected Files/Folders under Mac OS X
Selectively and permanently erase selected files or folders from Mac machine or storage media under OS X. You don't have to wipe the entire hard drive.
2.Completely Wipe Mac Hard Drive or Storage Media
Completely and conveniently wipe Mac hard drive or storage device to destroy and erase all existing data, lost data, history data on the hard drive or storage media.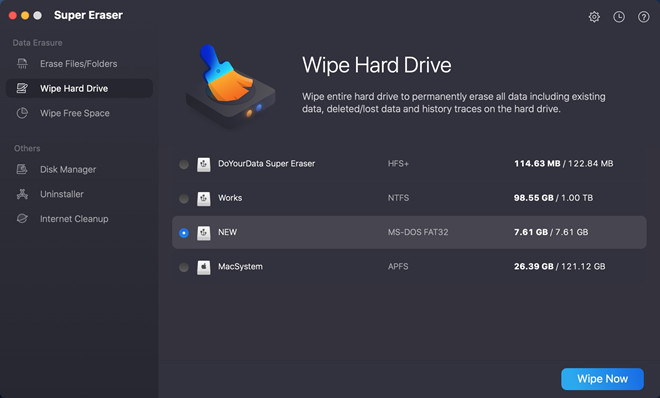 3.Securely Wipe Unused Disk Space
One-click to wipe unused disk space on Mac or storage media to permanently erase lost data or traces on the unused disk space. This leads to a cleaner, safer and more efficient hard drive.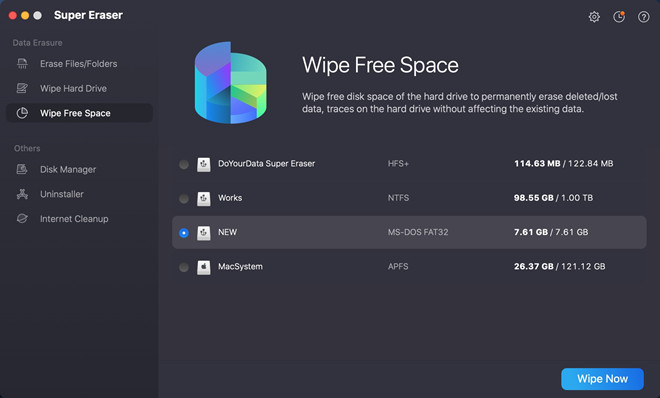 Why or When You Need Permanent Mac Data Erasure


System Requirements:
Mac OS X 10.11 (El Capitan), 10.10 (Yosemite), 10.9 (Mavericks), 10.8 (Mountain Lion), 10.7 (Lion), 10.6 (Snow Leopard)
One Response to "DoYourData Super Eraser for Mac"
Jimmydennis Says:
May 22nd, 2017 at 6:48 am

Very efficient tool to erase data from Mac SSD.