Navigate
Navigate contacts from a small icon in the system menu, print Dymo labels, Dial regular and Skype calls, and more.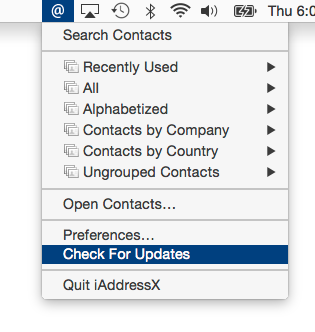 Dymo Support
Print to your Dymo Label printer right from iAddressX.
Dial
Dial using an old-fashioned land line via modem, Bluetooth or USB Modem, or Skype.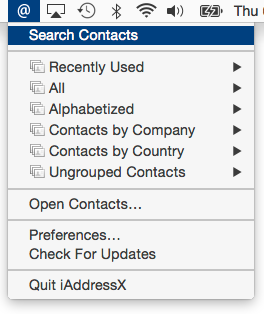 Skype Support
Full support to initiate a call or chat using Skype.

Recent Updates
Ability to control which groups to show in iAddressX menu.
Ability to specify default property for a person.
Ability to hide "Open iAddressX Preferences" and "Open Address Book".
Show all contacts in the main menu.
Selecting person header in menu now shows the person in Apple's Contacts App. (formerly called Address Book.)
Person image is now always correctly scaled.
Fixed name of Ungrouped contacts.
Alphabetized group now correctly sorted.
What's new in this version: Sparkle framework added to "Check for Updates" Serial Number input and handling similar to that found in our other Tropical Store Products
Check out the review for iAddressX from The Apple Daily Report: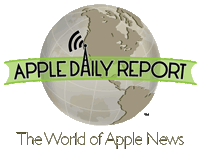 System Requirements:
OS X Yosemite Ready