MP3 Splitter for Mac

Easily cut out pieces of MP3 files without having to decode that MP3.

DeltaWalker Oro, Pro and Standard are available in the ZotShop!





Normally: $19.95

ZOT Price: $9.95

Click to macZOT!
Download Trial





MP3 Splitter for Mac is an easy audio splitting software that is allows you to quickly and easily cut your MP3 audio file on Mac without the need for re-encoding, all in a single, easy-to-use interface. The tool cuts the MP3 at the frame level without losing the quality of your MP3. so it keeps the sound quality of original MP3 files.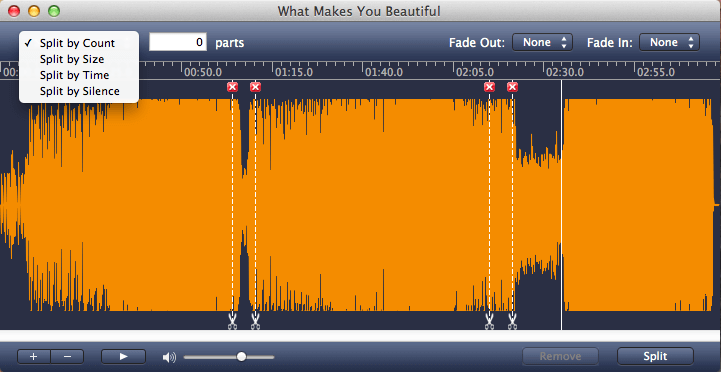 The program can easily cut off any number of fragments you need. It supports automatically splitting by selection, time, file size or number of parts. It supports splitting MP3 files with automatic silence detection. Remove unwanted portions of your MP3 files with ease. AppleMacSoft MP3 Splitter for Mac allows you to easily add fade-in and fade-out effects to output audio files.
The MP3 Splitter program provided by AppleMacSoft is so easy to use that beginners can effectively cut their favorite parts from MP3 songs to use as ringtones. It is also useful for splitting audiobooks, or audio tapes into separate tracks, cutting unwanted parts, and removing unnecessary (silence, noise, etc.) segments.
MP3 Splitter for Mac Key Features:
The built-in CUE Splitter lets you split a large audio file.
Cut MP3 section whose start and end points are specified by user.
Easily split larger MP3 into multiple tracks without reducing quality.
Cut MP3 files into specified length clips.
Cut MP3 songs into equal-length sections.
Easily remove unwanted portions of your MP3 files.
Supports manually selected segments which should be sliced
The silence detector lets you split an audiobook into chapters or remove unwanted silence from your Audio files.
The built-in media player allows the user to play back audio
Drag and drop an audio file directly onto the application.
Fade audio in and out to create pleasing transitions.
Easily move split points by dragging them exactly where you would like, or add by timestamp.
No quality loss
The splitting speed is unbelievably fast.
User Reviews:
"I've been looking for a program like this for a very long time! It's just what I needed and it works great!!!" — Frey Ronald
"This application loads pretty quick on my Macbook, quite simple to use." — Dale Shimono
"Absolutely Amazing! I just recently bought this program and I feel it is worth every penny. This program not only allows you to automatically split MP3 files but also to manually set the cut points. If you haven't already bought this program I HIGHLY suggest you do!" – David Kirsch

"The trial worked great so I went ahead and bought it. It works almost perfectly. It is much easier to use than other audio cutters." – Randy Miller
"The program works as advertised, and does a great job. Easy to use, and It would be nice to have DRM Protection audio support, but I highly recommend this app." - Sam Hochberg
"This is by far the easiest to use and the best quality mp3 splitter out there. Ideal tool to split big audio files in unprotected MP3 file formats to multiple smaller pieces." – Gary Crosby
"I would rate it 5 stars, but will add an extra one to compensate for the previous review. The app does what it's supposed to do, and is available for the Mac OS X 10.10.." – Mogens
"Love this app. Works great with all the audio I have to manage. " – Mark Stewart
"This is a very efficient app for cutting mp3s and adding auto-fades. It's intuitive, quick in operation and a great solution. Highly recommended. " – Maurice Singleton
You can learn more about MP3 Splitter for Mac and download the software at
http://www.applemacsoft.com/mp3splitter/ .


System Requirements:
Mac OS X 10.6 and Later
2 Responses to "MP3 Splitter for Mac"
Herzberg Says:
January 19th, 2018 at 3:53 am

This is the same price as the vendor is selling it for. Should be 50% off $9.95.

cutedjpro Says:
January 21st, 2018 at 8:23 pm

The price as the vendor of MP3 Splitter for Mac is $19.95 USD, you can view it in shop basket.