Fireebok iLike – Everything for Your iPhone in One Application


Manage, optimize and organize the contents of your iOS device.





Normally: $49.95

ZOT Price: $29.95

Click to macZOT!
Download Trial





Fireebok iLike is an all-in-one utility geared towards purifying your iPhone, iPad and iPod. It offers a new approach to system maintenance that will: transfer files like music from your iOS device to a Mac computer and iTunes, reclaim more free space on your i-device by removing various temporary and useless files, browse your backup files of your iPhone like a normal USB flash drive.
Key Features of iLike:
The Ultimate File Transfer Utility for Your iPhone, iPad & iPod
iLike enables you to transfer files from your iPhone, iPad or iPod to your Mac or iTunes easily. With just one click, your music, photos, videos and apps are exported and kept protected safely.
Some or all of your music gets stuck on your device, or you've gotten a new computer or reinstalled iTunes, migrating your iTunes library is easy—unless you've somehow lost it. Luckily, you can get everything off your iPhone without any issues.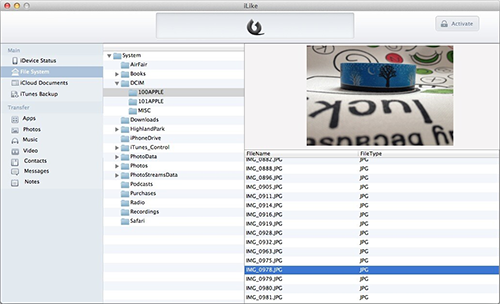 Free up Space on Your iPhone and Keep Your Device Like New
The junk files slow down iOS system's performance and worse, take up valuable space of your device after a period of use, that's why iLike is uniquely designed for many iPhone owners, providing very effective tools to clean up your iPhone to release some extra space.
The ability to remove and clean the file of iLike include: Temp and junk files, cache files, cookies and script files, sync-failed media files.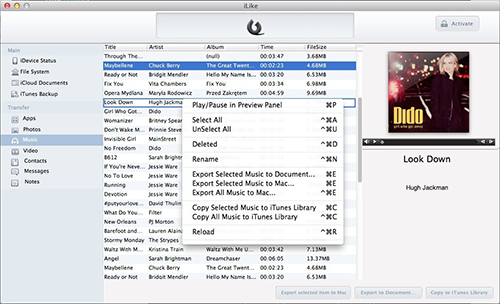 An Easy Way to Get Direct Access to Your Device's File System
iLike reads the information of your i-device and presents the content intuitively to you in an organized dashboard. You can preview photos, listen to music, view documents and more without too much of a hassle.


System Requirements:
Mac OS X 10.8, 10.7, or 10.6
10 Responses to "Fireebok iLike – Everything for Your iPhone in One Application"