Intego Mac Premium Bundle 2013 – 1 Year Subscription Plan


Want comprehensive protection? This is it.





Normally: $89.99

ZOT Price: $49.99

Click to macZOT!
Download Trial





Want comprehensive protection? This is it.
You insure your car before you take it on the road, right? It only makes sense to protect your Mac before you connect to the Internet. Let's face it, there's a lot that can go wrong: viruses and malware, network attacks, dangerous predators, the theft of personal data, inappropriate content in front of your kids, system failure and data loss. Mac Premium Bundle 2013 was created to address each of these issues and offer the comprehensive protection you've been looking for.
Includes:
Virus Barrier 2013
Award-winning protection against Mac and Windows malware.
Net Barrier 2013
Blocks strangers and suspicious applications from accessing your Mac.
Identity Scrubber
Finds any sensitive personal information kept on your Mac.
Family Protector
Provides a safe surfing environment by filtering inappropriate web content.
Washing Machine
Cleans up your Mac and erases your digital footprint.
Personal Backup
Backs up your essential files.
It's not your fault; you've been led to believe that Macs are immune to the evils of the Internet. The bad guys are depending on you believing it too, it makes their job of installing malware on your Mac that much easier. Intego knows their tricks and knows how to stop malware before it wreaks havoc on your Mac and your files. Protect your Mac with Virus Barrier: award-winning Mac Antivirus software from Intego.
We know Macs. Our competitors don't.
We build our Mac antivirus software from the ground up for Mac OS X – and we've been doing it that way since we started in 1997. Why trust your digital world to a company that crams Mac protection and extra junk onto an existing PC platform?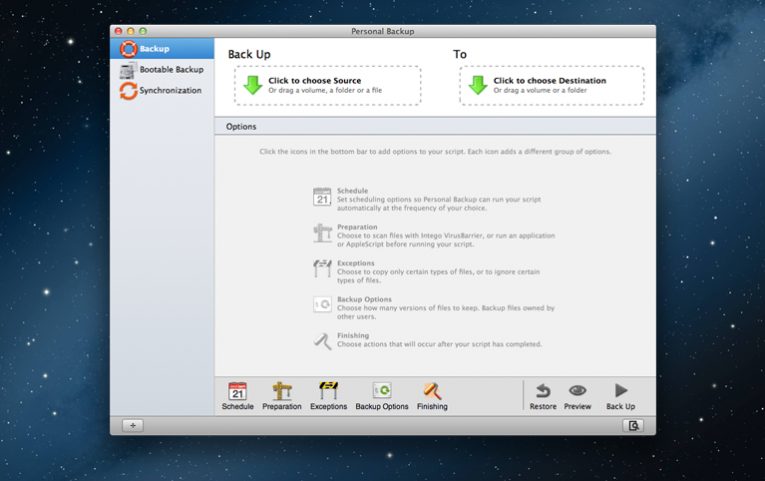 Don't let your iPhone or iPad cause trouble
Your iOS devices are an open doorway to transmitting infected files and malware onto your Mac and Windows systems. Intego Virus Barrier 2013 scans iOS devices whenever they're plugged into your computer to make sure that no infected files that you received via email will pass onto your Mac or Windows machines.
Product details:
---
VirusBarrier 2013
Keeps your computer free of malware such as Mac viruses, Windows viruses, Unix viruses, Microsoft Word and Excel macro viruses, Trojan horses, worms, spyware, adware, hacking tools, dialers, keyloggers, and scareware (fake security programs)
Detects Windows malware to prevent your Mac from acting as a carrier
On-demand malware scans, including full scans for maximum coverage of your entire Mac as well as quick scans for day-to-day useScheduled scans
24/7 real-time protection that watches all file activity and makes sure you're always protected
Finds malware contained in archive filesScans for viruses in emails for popular email clients
Net Barrier 2013
Active application list easily identifies applications using bandwidth as well as incoming vs. outgoing bandwidth for each applicationLogical default profiles for the different kinds of networks you connect to (home, public, and work)
Automatic profile switching detects when the network connection changes and makes it easy to select a new profile
Easily blocks/allows connections for specific local devices
Easily configures primary network channels to/from the Internet and to/from the local network
Full-time application activity monitoring for anti-spyware measuresHelps identify rogue applications accessing the Internet to act as zombies, expose your confidential information, or act as backdoors into your computer
Automatic application activity notification whenever an application is trying to do something on the network (take simple actions to allow or deny the application to run or to interact with specific domains or local devices)
Identity Scrubber
Helps protect your identity by finding files on your desk that contain personal information like social security numbers, credit card numbers, addresses, passwords, bank account numbers, driver license, date of birth, phone numbers, email addresses, passport numbers, and more
Scans emails as well as files
Clearly displays results for easy-to-process search results
Clearly shows all files containing identity information and what type of information is in each fileCleans up files via single-click operations
"Shreds" files containing personal information to quickly and easily remove all traces of your identitySimple set up and configuration
Sophisticated algorithms automatically find all identity typesAdvanced options provide highly customizable searches (create custom identity types, exclude specific identities or folders to reduce false positives, or specify locations to search for shortened search times)
Saves search results to return to them at any time
Family Protector
Blocks objectionable web content, including categories of content, specific web sites, sites with specific keywords, and access to sites requiring https
Whitelist functionality allows users to access only sites you permitAccess restrictions custom tailored per user (e.g., one account for yourself and a more restricted account for your child)
Browser-embedded UI allows for overriding parental controls and allowing sites so long as the user has the necessary security credentials
History of websites visited for each user account and the ability to easily block/allow a site from the history list
Time of day restrictions on network access (restrict access to specific times of day/week, a maximum amount of time per day, or temporarily block a user for a set period of time or until you unblock them manually)
AntiPredator chat monitoring for all standard chat protocols to watch for objectionable chat content and block inappropriate chats (receive email alerts whenever objectionable content is detected)
View history of recorded chats, including the content of the chat and the ID of the chat partner
Takes screenshots and includes a Time Machine-like control that lets you easily view recorded screens
Records keystrokes
Restricts application network access only to applications you allow
Blocks inappropriate emails
Blocks connections to game servers or streaming music and video
Blocks peer-to-peer activity (e.g., BitTorrent)
Contains a "monitor only" mode that records a user's activity but does not provide any protections/perform any blockingPeriodically updates filters to provide ongoing protection against objectionable content
Web Administration Console allows anytime/anywhere access to Family Protector (view web activitiy and block/allow access to specific sites, allow exceptions to permitted network access times, and view blocked network applications and allow exceptions)
Email activity reports (e.g., websites that were blocked, blocked chats via AntiPredator or keyword triggering, attempts to access encrypted sites)
Washing Machine
Frees space on your Mac by cleaning the unnecessary files that accumulate through daily useEmpties cachesRemoves cookies
Cleans up download and browsing history
Removes old and unused bookmarks
Creates multiple "cleanlists" to consolidate cleaning jobs into reusable packages
Schedules operations to run automatically (schedule cleanlists or individual operations)
Erases using "Secure Clean," which not only deletes files but actually overwrites the places on the disk where that content actually resided so all traces of the files are really gone
Personal Backup
Backs up your digital memories and important documents
Offers a flexible configurationCreates backups for any folder or combination of folders on your MacBacks up to many different types of media such as network drives (including both local and remote drives using FTP), optical disks, or disk images for easy portability
Creates bootable backups to easily rebuild your Mac in case of failure or other problems
Synchronization backups allow you to keep two locations in perfect harmony and flexible configuration for handling conflicts (e.g., when files have changed on each side of the synchronization operation)
Schedule backups to run when you choose or run them manually
Highly customizable backup flows (create multiple backup flows, pre-process your files by scanning for viruses or invoking scripts before backing them up, easily create backups that copy or exclude certain types of files, or run post backup scripts or operations such as unmounts on the target drive)
Visit the Intego Site Now For More Details…
---
About Intego
Devoted to Protecting Apple Products Since 1997
Mac users have unique security needs, and Intego has been working to protect them from the dangers of the Internet for nearly 15 years. Founded in 1997, Intego is the only company focusing solely on security for Macs and other Apple products. With a full range of products to protect Macs, as well as products for iOS devices, such as the iPhone and iPad, Intego makes the Internet a safer place for Mac and Apple users.
Intego's security programs are designed so novices and security experts alike can protect their Macs optimally. Intego's programs have received dozens of awards from Mac magazines around the world, all of which stress the quality and ease-of-use of Intego software.
With its unique position as the Mac security specialist, Intego provides Mac users with full protection from all the dangers of the Internet. As the Internet evolves, Intego develops new programs and enhances its existing software to meet the growing security needs of Mac users.


System Requirements:
Mac OS X 10.6, 10.7, or 10.8
Mac® computer with Intel® Core 2 Duo processor
1.5 GB of available hard disk space
Internet connection required for NetUpdate security updates
Languages Supported:
English, French, German, Japanese, Spanish