Nuclear Nova Game Blast!
Get five great games for $19.99!
Weekend ZOT Preview Below…

Normally: $75.00

ZOT Price: $19.99

Click to MacZOT
Click the links under the screenshots for more info and to download each game.
GL Golf (includes the Expansion Pack with all current courses!)
Rocket Golf (includes the Expansion Pack with all current courses!)
Click to Developer's Site for more info.
Nuclear Nova Software is committed to creating entertaining, high quality games for the Mac, iPhone, iPod, and iPad, that the whole family can play without breaking the piggy bank. Whether you want to play a round of GL Golf, Escape from an enchanted dungeon, build a space colony in Hydrothermal, or relax with one of our other games, Nuclear Nova Software has got ya covered.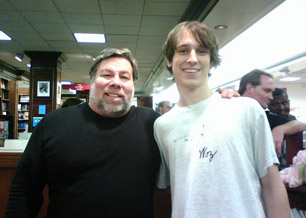 Steve Wozniak and Jake Leveto, October 2007. Steve was one of the first owners of Escape and helped inspire Jake to continue in the shareware business.
Nuclear Nova Software was created by Jake Leveto in 2002 to publish his first game, Escape, which was created for the uDevGames 2002 contest. While it didn't finish at the top, it received lots of positive feedback and was improved upon to become a shareware game. With Escape selling successfully, Jake decided to create another game for the uDevGames 2003 contest. This is where GL Golf was born. GL Golf won the Editors Choice Award, and was then improved upon and released as shareware in March 2004. Throughout the past years GL Golf has been updated numerous times and has evolved into a popular game with a loyal crowd of golfers. During the early stages of GL Golf, our 3rd game, Hydrothermal, was developed and released as a side project. After a long hiatus, a fourth game, Liquid Defense, was completed in the summer of 2008. During the end of the summer, GL Golf was ported over to the iPhone. Both the paid and lite versions have at one point climbed into the top 50 iPhone applications. In the summer of 2009, the side scrolling game Rocket Golf was released for the Mac, iPhone, and iPad.
Jake graduated from the Rochester Institute of Technology in May of 2010, with both a Bachelors and Masters degree in Microelectronic Engineering. Instead of joining the corperate world, Jake plans on working full-time on both new games and his current ones. While Nuclear Nova is currently a one man operation, both a new programmer and artist may join the team sometime in the next year.

---
This weekend's ZOT?
Oct 2nd and 3rd


Hydra
You should use Hydra…
Hydra provides human eye-like perception to your photographs by allowing you to create High Dynamic Range (HDR) images from a series of regular photographs (up to 10), either from DSLRs or traditional point-and-shoot cameras. The output produced by Hydra is much closer to what your eyes actually see.