Call Recorder for Skype and iGlasses Bundle


Two Rock Solid apps to transform your Skype audio and video calls into QuickTime movies and take your webcam to a whole new level!





Normally: $39.90

ZOT Price: $13.99

Click to macZOT!
Download Trial





Record your Skype conversations for:
Family Memoirs

Business Meetings

Media Interviews

And – Anything else you want to keep a record of!
Call Recorder is an add-on for Skype to automatically transform your audio or video calls into movies. Free Upgrades for Life!
Here's Why Mac Users Love Call Recorder:

Simply Simple

Ecamm puts ease of use first. Install Call Recorder and you'll instantly see recording controls in Skype. Use the Record and Stop buttons, or activate Call Recorder's automatic recording feature. The recorded files are saved into a folder on your Mac, neatly named with the caller's name and the date. That's it!


Record Video Calls with Picture-in-Picture or Split Screen Mode

Skype provides fantastic high-quality video chat. Use Call Recorder to record your video sessions exactly as you see them or in our unique side-by-side and split-screen modes. Camera shy? There's even an option to just record the remote video.


Share Recordings in MP3 Format

Call Recorder makes it easy to convert your QuickTime movies into MP3 files. Simply drag a recorded QuickTime movie to the "Convert to MP3" utility and it will create an MP3 file, which can then be emailed or posted to a website.


Designed for Mac Users by Mac Users

We're a team of experienced enthusiasts who understand the high expectations you have for reliability and performance. Call Recorder takes advantage of several familiar technologies such as Quicktime, H.264 encoding and AAC audio.


Advanced Compression Technology Saves Space

There's no need to worry about filling up your drive with recordings. Since Call Recorder records AAC audio and H.264 video, file sizes are pleasantly small.


Try Before You Buy

Not sure if Call Recorder does what you need? Try it!


One Record Button, Millions of Possibilities:

Annotate Calls in Realtime with Chapter Markers

Quickly create text tags during your recording to indicate important parts of your call. Mark where you finished your small talk and finally got down to business. Markers can be used later to quickly navigate the call in Quicktime Player.


Record a Podcast Interview

Let your imagination run wild. Recorded Skype calls sound even better than regular phone calls and are great for interviews and remote reporting. Calls are even recorded with each side of the conversation on separate sound tracks, which makes for easy editing.


Record Calls to Real Phones Too

With a

SkypeOut

calling plan, you can even call out to cellphones and landline phones worldwide. This is a great way to record an interview with someone who doesn't currently have access to Skype.

Go On The Record

You have your old emails and text chats saved for future reference, so why not keep a copy of your Skype calls too? Configure Call Recorder to record and save all calls, and you'll be surprised how often you refer back to recorded conversations when you can't remember exactly what you said.


With Great Power Comes Great Responsibility

Be aware of laws and regulations pertaining to the legality of recording conversations. In some states and countries, all parties must be aware that a conversation is being recorded in order for it to be legal. Check your local laws before using Call Recorder.

Featured Recording:



The Rise To The Top's David Garland Interviews Author Seth Godin – TheRiseToTheTop.com and CreateAwesomeInterviews.com
---
Amazing webcam adjustments and effects in any app, including
Skype, iChat, FaceTime and even web chat.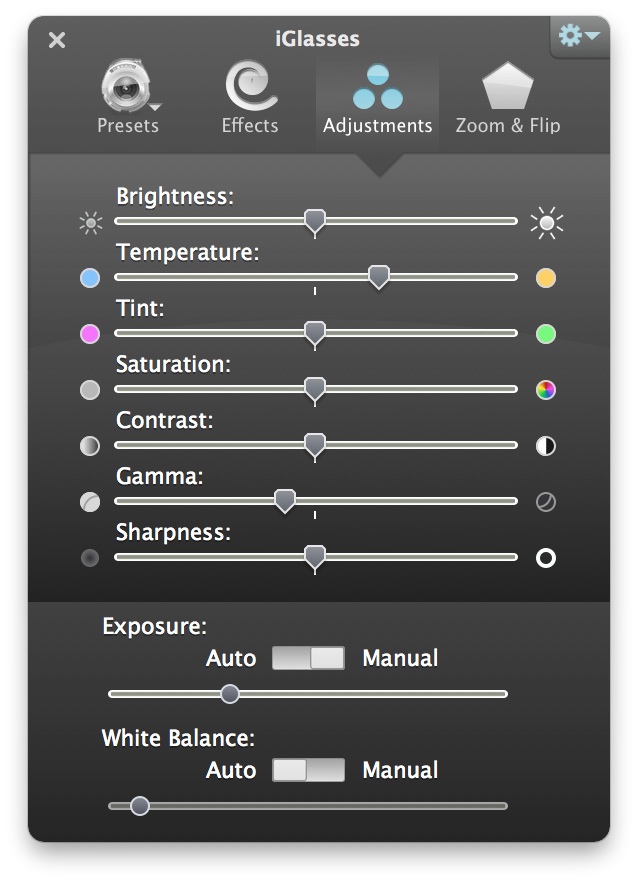 Whether it's part of your daily workflow, or just for fun, iGlasses is your camera's best friend.
Master Your Webcam With These Powerful Features:

Automatically Enhance Your Image, Now in HD

You'll be amazed to see what the iGlasses can do for your camera. A perfect touch of color correction, extra saturation and contrast will bring your video alive. If your room isn't well lit, find out what the iGlasses "Brighter" settings can do!


Look Good, With Fine Tuning Adjustments

Feeling a bit gray today? Green with envy? iGlasses puts settings such as color, contrast and brightness adjustments at your fingertips. Even save preset configurations for different lighting environments.


Over 50 Fun Effects

Why should iChat and Photo Booth have all the fun? iGlasses brings fun effects and 3-D distortions to any video app on your Mac, including Skype, Google Talk and Facebook chat. Even face-finding effects are available to Lion and Mountain Lion users.


Share Pictures and Videos

Media Sharing is just one of the great new features you'll find in iGlasses 3. Drag any image or video file into iGlasses to display it instead of your camera video. Use it to quickly show someone an image, or even to be someone else for a while. The possibilities are endless!


Zoom In For a New Look

Apple's built-in camera provides a great wide angle, but a nice head-and-shoulders shot gives a more professional look. iGlasses digital zoom is a quick way to enhance the appearance of your video chats. Simple controls allow for full digital pan, tilt and zoom.


Save and Restore Settings

When you find the perfect combination of adjustments and effects, save your settings for instant access later on.


The Versatility and Reliability You've Come to Expect From Ecamm:

Works Seamlessly With Any App, Even FaceTime and Web Chat

Other video enhancement add-ons only show up in certain apps. iGlasses is everywhere you need it. Simply choose iGlasses as your camera in apps such as iChat, FaceTime, Skype and web apps such as Google Talk and Facebook video, and Omegle.


iGlasses is Now on Mountain Lion

Taking advantage of Apple's new Core Media frameworks, iGlasses is fully compatible with Snow Leopard, OS X Lion, Mountain Lion and beyond. Even enjoy iGlasses effects in FaceTime when using your Mac to call iPhones, iPads, iPod Touch and other Macs.


Try Before You Buy

Some things are best seen first hand. Not sure if iGlasses does what you need? Try it!



System Requirements:
Call Recorder System Requirements: Mac OS X 10.5 or later, Quicktime 7 or later, Skype for Mac 2.5 or later.
iGlasses System Requirements: A Mac with a Webcam, Mac OS X 10.6 or newer including OS X Mountain Lion.
3 Responses to "Call Recorder for Skype and iGlasses Bundle"
mmueck Says:
February 4th, 2013 at 5:39 am

iGlasses has always been updates for life – does the same apply for today's Zot?

admin Says:
February 4th, 2013 at 9:42 pm

Yes. This is the same license you would buy directly from Ecamm.

dantini Says:
February 5th, 2013 at 11:25 am

This is a great deal! I use both of these apps a lot, and ecamm has been great about updates. I wish all developers were as good! If you're on the fence, get it!