Deskovery

Take control of your windows – Window Shading for Lion – Save time and have fun!
Weekend ZOT Preview Below…

Normally: $24.99

ZOT Price: $14.99

Click to MacZOT
Deskovery is efficient and fun windows management for your Mac. Make your Mac desktop more fun while saving time managing your windows.
Save time and to be more productive. Dedicate more time to things that matter.
Windowshading (minimize to titlebar), Lion compatible
Space switcher directly in the Dock(10.6 only)
Customizable Spaces transition (3D Cube, 3D Flip)
Compiz-like wobbly windows
Transparent windows
Size and align windows
Magnetic windows with screen edges
And much more !
Testimonials:
"I really like your app" Kevin P.
"I now cannot imagine my Mac without." Lars D.
Available through Jan 7th via a link from this page.
Require Mac OS 10.6 +
More info, screenshots and video: http://www.neomobili.com/products/deskovery/
Neomobili is a software factory trying to push the limit of software on Mac devices. With Deskovery we tried to bring to the Mac Desktop, something new and fun (Wobbly windows, transparent windows, …) while giving you tools to boost your productivity. Deskovery uses a unique custom engine allowing the full control of your windows.
If you have an idea to make Deskovery even more awesome, do not hesitate to contact us. We want to be the best.
We are based in Lyon (France) were we create "Tasty" software "à la française"
---
This weekend's ZOT?
Jan 6th and 7th

TwistedWave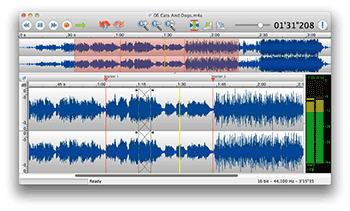 Does not require a Ph.D.
Audio editing, as simple and intuitive as it gets. The basic editing tools, just where you expected them.

iPhone ringtones are a breeze –
Load any audio file.
Cut your favorite part.
Add a fade-in and a fade-out.
Export as a ringtone.
Done!

Although it is very easy to use, TwistedWave is not a toy.

With its ability to work on 24 bit audio files, with a sampling frequency as high as 192kHz, TwistedWave can truly be used for professionnal audio work.
Import and export many popular audio file formats, such as wav, aiff, au, snd, sd2, mpg, mp2, mp3, mp4, m4r (iPhone ringtones), m4a (iTunes), aac, caf, flac, ogg/vorbis, wma, WavPack, Wave64
One Response to "Deskovery"
rockroll Says:
January 6th, 2012 at 6:25 am

I already own Deskovery after looking for a window shading application after Lion arrived. Coming from using Haxies over the years I highly recommend this as a replacement. The app is mostly stable – a few minor interface quirks mentioned on their blog. But what is great is they DISCUSS their software issues and development plans unlike the unnamed Haxie developers who treat customers poorly (my opinion).