Pay off your debts faster than you ever dreamed
This is simple – Debtinator will save you money. If you're carrying debts, you know you should pay them off. You know that your life will be simpler and easier if you're not constantly making payments. You may even know some techniques for dealing with them. But you can do better.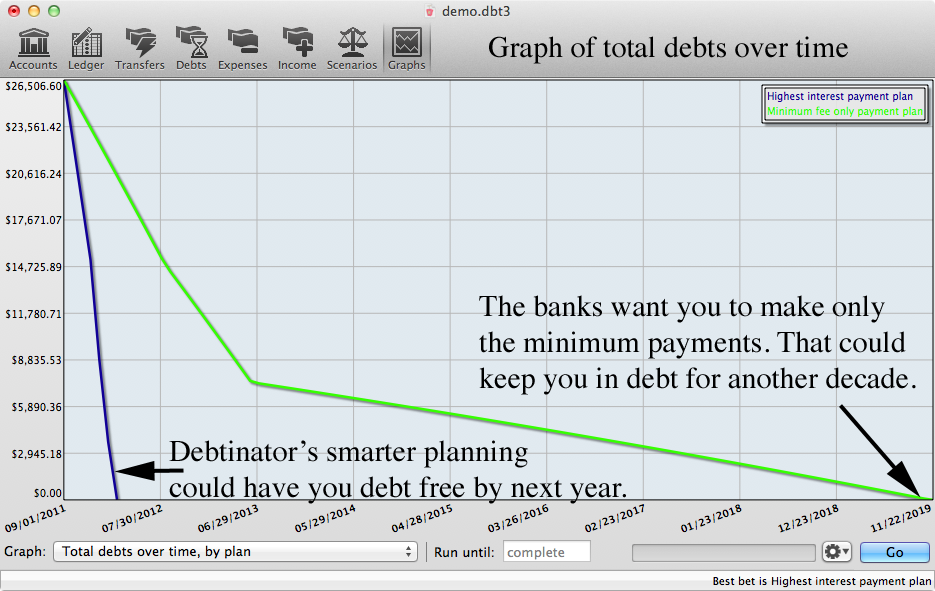 Ever hear of the snowball method? It's simple, it's effective, and it's helpful. But it's not the best you can do – it encourages you to pay off your debt with the lowest balance first. You see results more quickly, and then you free up the money from the lowest balance debt to put towards the next one, so results snowball quickly.
But in terms of saving you money? It's actually not so hot.
A better approach is to pay off your debt with the highest interest rate first. That's the one that's costing you the most money and the one that you want to get rid of first.
And how should you do that? Incredibly, most people encourage you to guess. Debtinator encourages you to know.
So some debt counselor tells you to guess and see if you can maybe send an extra $50 every month to your credit card. Or maybe it's $100 or only $20. The point is to send a little more. But the problem is, how do you know how much money to send?
So what happens if you're sending an extra $50 every month and then six months later you don't have the money in the bank to pay your car insurance? Or your gym membership? Or your heating bill which went up in the winter? You end up back behind the eight ball and need to charge the bill to your card to pay it, and rack up more debt on your card. Maybe at a higher interest rate than before.
Debtinator takes a dynamic, whole picture approach.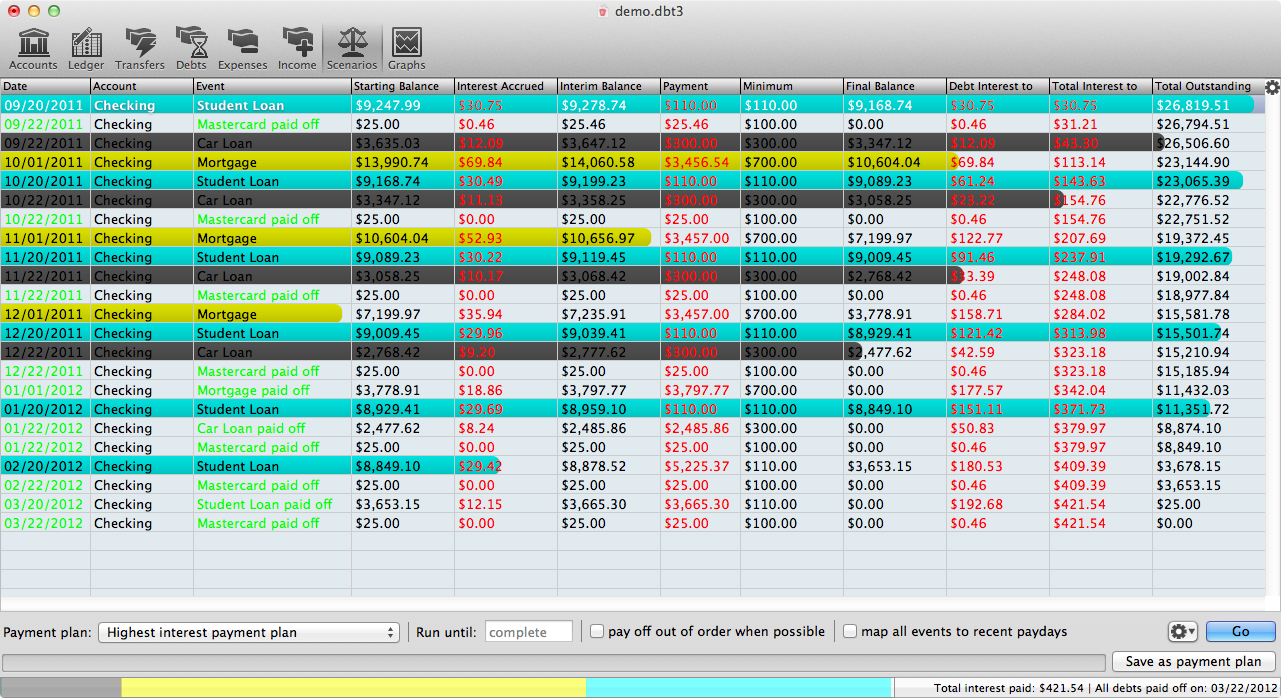 With Debtinator, you don't need to guess – you fill in your entire financial picture. Tell it what your income is, what your debts are, your recurring expenses, and how much money you want to set aside just for you (more on this later!). Now, with your full financial picture, it will dynamically restructure your payments based upon what you can actually afford!
Maybe you can afford to pay $50 this month. But maybe it's only $40 next month. And $20 after that. And then nothing for 3 months. But at that point, you'll pay off your car insurance bill in full and not need to rack up more debt to do it. Then maybe the month after that, you can send $100 extra for a while until you need to save up for something else.
You can't do that with just a spreadsheet and guesswork.
Plus, Debtinator works within your lifestyle. It's silly to ask you to send all your money to your debts. Of course, that'll get you out of debt the fastest, but what about living your life right now? If you try to forego everything that makes life fun – going out to eat, going to the movies, buying video games, taking vacations, whatever you enjoy – you're not going to stick with the plan. You'll rack up more debt, you'll get defeated, and spiral back down.
Instead, Debtinator lets you live your life now. So go ahead and budget $50/month to eat out, and $100 for video games, and save up $1,000 to take a trip. The software doesn't care or judge, it just analyzes your situation to tell you if it's possible.
Maybe you can spend $50 eating out every month. Or maybe that'll cause you to run out of money and not pay your rent in 3 years. The scenarios will figure that out for you so you can make changes now. $40/month might be enough to keep you going. Or $20.
Or you may find out that you can actually spend $75/month eating out instead. Maybe the extra money spent now will only keep you in debt another two months longer and cost you a few hundred in interest, and maybe you think that's worth the trade off. The point is, you get to decide for yourself. With your full financial picture, you'll know the impact of the changes you make. So enjoy yourself a little more now and pay a little less, or pay a little more and be debt free sooner. Pick a plan that works for you and stick with it.
The envelope method budgets your money for you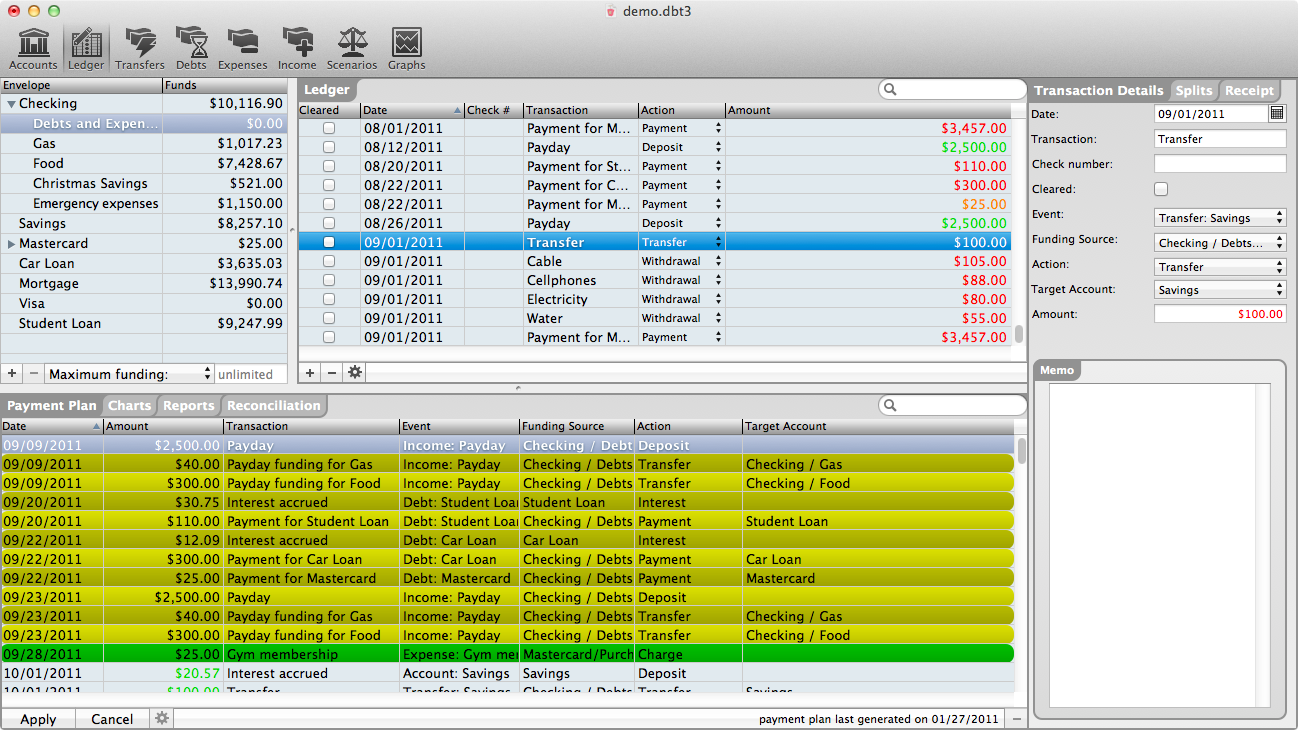 The Envelope Method is a great way to keep track of your money. Your grandparents probably used it – stick a wad of cash into an envelope labeled "Groceries" and you know that's how much you have to spend on food. Run out of money there? It comes out of the Gasoline envelope. Or Entertainment or Emergency or whatever. It works great…but who deals in cash any more?
Debtinator lets you virtually segment your bank account into budgets for you. So you have separate blocks of money to pay your debts, budget money for groceries, pay for entertainment, and so on. Is your video game budget depleted and you really want that new game? Well, you can do it, but you'll realize that you're taking money from your Eating Out budget to do it. You get to decide which is more important.
Did you run out of money and can't pay your bills this month? Move some money out of Emergency Funds to cover it. But keep your money blocked away until you need it, then move it around as you can. It's not just a big shared pool of funds any more, it's all there for a purpose.
And Debtinator can work with most situations.
Have a variable APR mortgage that adjusts in 3 years? Debtinator can model it.
A credit card with a chunk of the balance at a low balance transfer rate and the rest at a higher purchase rate? Debtinator can model it.
Want to set aside at most $200/week for groceries? Debtinator can model it.
Don't want to pay off your mortgage early so you always get the tax deductions, but still want to overpay everything else? Debtinator can model it.
Want to pay off your lowest balance debt first to free up more cash? Debtinator can model it.
Not sure how to pay down your debts? There are 18 different scenarios to compare. Figure out what works best for you.
And if life changes and something unexpected comes up? Not a problem – just regenerate your payment plan and Debtinator will adjust your schedule to compensate for that unforeseen expense or additional income. If that $500 car repair bill is going to cause you to miss a mortgage payment in 5 years, you can find out about it now and take steps to address it before it becomes a problem.
Finally, if there's some financial tidbit that the app is missing that you're just dying to have, please tell us about it. We've thought of a lot, but we haven't covered everything. So let us know. If the app can already do it, we'll show you how. If it's a good looking feature, we'll add it in. Trust us, we hate debt even more than you do, so anything we can do to stomp it out for everyone, everywhere, we're willing to look at.
Go try out the demo. It's fully functional, you're only limited by the number of times you can open the file. Punch in your info, and run the minimum payment plan. Make a note of how much interest you've spent. Then try the highest interest plan. All you have to do to come out ahead is save $10 in interest payments to cover the purchase cost – everything beyond that is money in your bank.
Good luck!
Debtinator is a universal binary and requires MacOS X 10.5.4 (Leopard) or better.
For more information, visit www.bassetsoftware.com.We've got tons of documentation, quick start guides, and tutorial videos to help get you up and going fast.