Master Key – Typing Tutor
Take your typing to the speed of thought
Lion Ready
Special Offer Below…

Normally: $18.00

ZOT Price: $8.00

Click to MacZOT
Whether you're keeping up with the social networking, doing school work, writing for a blog or wikipedia, or just working with a lot of email, most communication is still done in writing. And nearly everywhere you enter text, you use a keyboard.

Typing is a life skill today. When you're fast and accurate, typing doesn't have to get in the way of the rest of life.

Learn to type on the standard QWERTY keyboard, or learn a purportedly more efficient and less stressful key layout such as Dvorak, or Colemak. The French AZERTY and German QWERTZ are all taught in progressive lessons. Improve your typing skills using our drills or any of your own plain text files. Track your mastery progress and then play the ParaTyper game to keep things varied and interesting so you'll want to go back to the drills and progress well past 40 words per minute.

Master Key is the real Mac citizen using a standard Mac interface. It allows you to type continuously from line to line just like you need to naturally. You also get to see your typing speed in the heads up display without looking away from what you're typing.
Free updates forever, so far for over a decade
Made for schools so it supports Multiple-users very well
Do timed or fixed-length drills or play the ParaTyper game
Paginates large text files, ebooks (Project Gutenberg) so you can type a book's worth.
Create your own drills for specific key vocabulary with a special filtering paste in the Drill Editor
Even small but important details are built-in such as the ability to pause your drills to scratch your nose, drink some coffee, or do whatever you need to do.
Minimum requirements: Any Mac that can running 10.4 or better, Lion-ready. Legacy versions are also available.
Click to Developer's Site for more info.


ParaTyper Game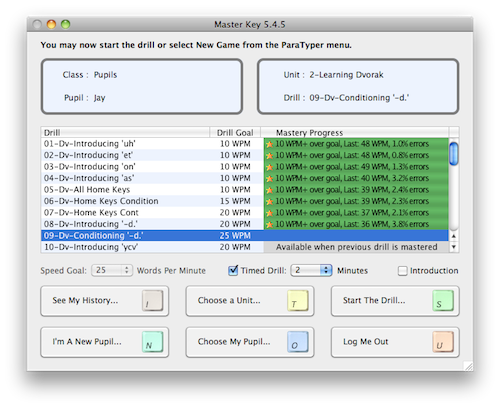 Drill selection and progress overview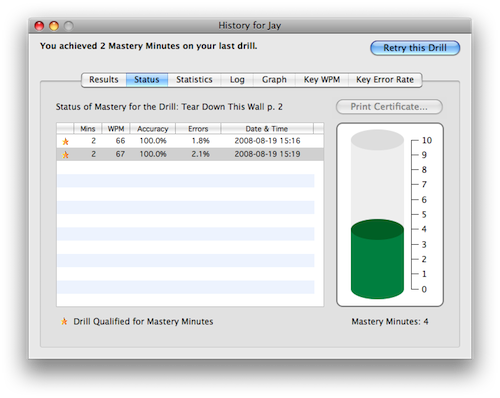 Lots of stats and progress towards mastery in the history window
---
Special offer!
July 23rd and 24th

Enigmo 2 and Pangea Arcade – Two Great Games – One Smashing Price!
Enigmo 2 – Construct mechanisms to direct lasers, plasma, and water to toggle switches, deactivate force-fields, and eventually get them to their final destination. Pangea Arcade is a collection of three blisering action games based on arcade classics: Nucleus, Warheads, and Fireworms. All three are action arcade games based on arcade classics that have been beefed up to the extreme with incredible graphics and sound, and have innovative new gameplay elements that make these twitch-games some of the most fun games Pangea Software has ever produced.