Pandora
The media collector's web spider and search agent.

Normally: $39.95

ZOT Price: $19.95

Click to MacZOT
What is Pandora?
In short, Pandora is the media collector's web spider and search agent for Mac OS X. Images, video, music, and more – Pandora can scour the web and retrieve your precious files in no time flat*.
(*that's marketing jargon… it actually takes a little bit of time to retrieve all those files :-)
Top Six Features.
In the time it takes to grab a glass of water, Pandora is able to hunt down images by spidering a URL or performing a keyword-based search. A clear and intuitive interface guarantees you are underway in no time, and extensive preferences allow power users to flex their muscles. It can multitask, and after a rapid search based on the given criteria, Pandora prepares a slideshow, providing you with a quick and comprehensive glance at discovered files.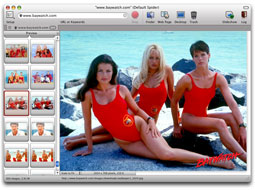 News flash: baywatch.com has pictures
of fake lifeguards.
It has spider sense.
Pick a web spider, give it a URL, and Pandora will begin its relentless pursuit of files. To further narrow the field, users can specify the file type, size, and other parameters in the preferences, and may also tell Pandora to stay onsite, limit link depth, or wander the web as it encounters new links. Provided with these directions, Pandora will chew through pages and pages of content, all while you chew through a bagel.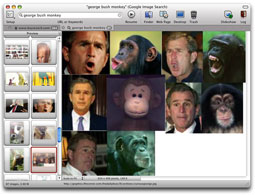 "george bush monkey" is entertaining, but
please use Google ™ safe search for "bill clinton".
Google and more – all on autopilot.
Keyword searches can utilize Google™ Image Search, Flickr Search, and more plugins to find the media you are after. Pandora goes one better, however – it does the looking while you catch up on your email. It retrieves full size images and presents them in an easily browsed format. Need a new haircut? Type your favorite celeb's name and you are on your way. Making a birthday card? Type your favorite animal (for laughs) or flower (to say you care). And if you need a laugh… there's always politics…

Mom's apple pie is a piece of cake.
The Zen of Mac.
Macs are easy to use: everyone knows that. Sticking to that script, Pandora creates a flawless and one-of-a-kind user experience – simply pick a plugin, enter a URL or some keywords, hit return and wait for the images to come pouring in.
Have it your way.
Pandora's preferences allow users to specify various filtering options such as minimum file size, file type, safe Google™ search and more. Users can also choose where Pandora stores files on their hardrives and even make sure files are clearly represented with a thumbnail icon a la Photoshop. Power tools for the power user.
As busy as you are.
Pandora can simultaneously perform as many tasks as it's given. Multiple sessions can, at the same time, be performing searches, URL scrapes, or even running through folders on your hard drive, via "Open…" in the "File" menu. Like life, the more you give it, the more you get back in return.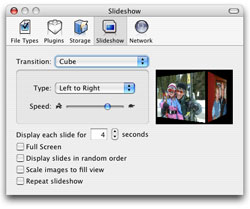 The cube you know and love.
Show Time.
After all that hard work (by Pandora – it was easy for you, remember?), you deserve to kick back and bask in the glory of all those files you tracked down. Fire up the slideshow and you are set. It comes with dissolve, cube, and flip transitions, and all the features you'd expect.
System requirements: Mac OS X 10.4 "Tiger" or higher.
Want to know more? Check out Positive Spin Media's Pandora page
MacZOT Special: get the your license (install on up to 3 machines), a $39.95 value, for only $19.95 in this MacZOT promo! Half price = WOOT!
5 Responses to "Pandora"