SplashShopper
The Ultimate List Manager for Mac Desktop. Sync with iPhone version!

Normally: $19.95

ZOT Price: $9.95

Click to MacZOT
We're celebrating the launch of Apple's App Store for iPhone and iPod touch with a special offer on SplashShopper. The best-selling smart list manager for smartphones, PDAs, and desktops now works with your iPhone and iPod touch! Get the special iPhone-compatible Mac desktop version here for half price, then go to the App Store and get SplashShopper for your iPhone or iPod touch device!

SplashShopper is the ultimate smart list manager for your Mac Desktop. Manage your lists of groceries, gifts, to do items, wines, music, movies, and more! Track prices and locations. Easily manage and synchronize lists between the Mac desktop software and the mobile version for iPhone and iPod touch, available on the app store.

Key Features:

Create an unlimited number of shopping lists each with different categories, custom fields and icons
Assign Items to multiple stores & track per-store prices
Create cross-platform vShop files for sharing customized SplashShopper lists with other users
Sync wirelessly with your SplashShopper for iPhone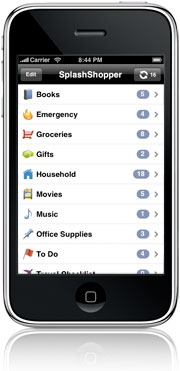 Go to the developer's site to learn more about SplashShopper!
Supported Platforms: *Mac OS 10.4 or later *iPhone or iPod touch OS 2.0 or later
Warning: This version of SplashShopper will work only if the user has SplashShopper for iPhone!
If you want the standalone Desktop version of SplashShopper, please see the other offer page!