Super Game Offer!
Buy one great Mac game, get one FREE!

Normally: $19.95

ZOT Price: $10.95
Buy Rainforest Adventure for only $10.95 and get Super Collapse 3 for FREE!
Rainforest Adventure
Follow a path of puzzling fun through a vibrant rainforest in this colorful new challenge. Swap tropical game pieces to make matching groups of three or more and turn the board to gold in more than 120 brain-bending levels. Show off your puzzle prowess and create perpetual cascades by creating matches while new game pieces are falling into place. Featuring stunning South American backdrops, engaging power-ups, and hours of family fun, Rainforest Adventure is a breathtaking experience for puzzlers of all ages!

Features:
Over 120 Challenging Levels
22 Bonus Levels
8 Engaging Power-Ups
Gorgeous South American Setting
System Requirements:
Mac OS X 10.3.9 or better
Universal (PowerPC/Intel)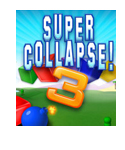 Super Collapse 3
Super Collapse is back again – and you won't believe the fun! The third installment of this highly addictive series holds more action and surprise than ever before. Adventure awaits as you explore 10 fun and unique lands in our all-new Quest mode. Earn coins along the way to purchase strategic items in the Shop, or take a breather and try your luck at one of 10 mini-games in the Casino. And for the true Collapse aficionado, new variations and classic favorites in our Quick Play mode deliver endless, back-to-back challenges! Whether you're already a fan of Collapse or new to the frenzied fun, once you start clicking you won't be able to stop!

Features:
Play the Quest or spend your time in the Quick Play area
3 New and Exciting Modes!
7 Total Collapse Modes
10 Unique Mini-Games
140 Brand New Puzzles
Explore the Secrets of Collapse World
Fun for any skill level
System Requirements:
Mac OS X 10.2.8 through 10.4
G3 400MHz or Intel Core processor
128MB RAM
Download the FREE Trial Version
Special thanks to MacGameStore.com.
4 Responses to "Super Game Offer!
Buy one great Mac game, get one FREE!"